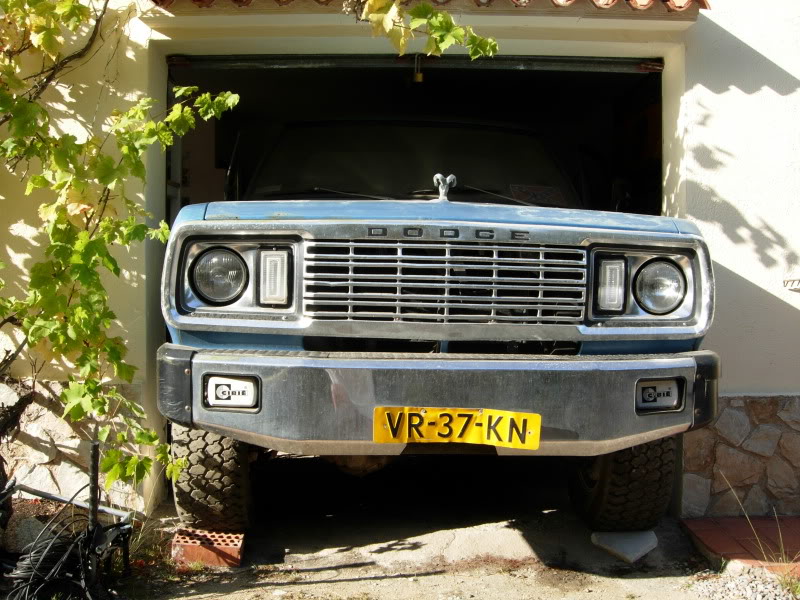 Je zal maar een grote neus hebben!
door: Christa Kroos
Dit is de 1977 Dodge W200 full-size pick-up truck van mijn broer uit Spanje.
Zie ook: 'Friends Rides': W200 Peter, en 'Pickup avonturen' – '4×4 vakanties': Winterseizoen 1995 en Noordkaaproute 1996.
De laatste keer dat de Dodge op de weg is geweest was de rit van Pelves (Frankrijk) – de Hemelvaart offroadweekend van de Dodgeclub – naar huis (Spanje) in 1999. Mijn broer besloot hem toen uit elkaar te halen om op te knappen.
Uiteindelijk is de Dodge in zijn garage terechtgekomen om te wachten op tijd, geld en initiatief! Hij staat alweer een paar jaartjes stil in het kippenhok. Het is 11 jaar stil gebleven rondom de Dodge. Hij moet er toch eens wat tijd en geld aan spenderen aan zijn 'ride', zodat die ook het daglicht nog een keer gaat zien. Ik loop hem al een tijdje aan z'n kop te zeuren hiermee. Wij zijn een paar keer in Spanje bij hem op bezoek geweest. We hebben hem voorgesteld de Dodge mee naar Nederland te nemen om op te knappen en van het een kwam toen het ander.
Peter heeft nog een sloopdodge staan. Daar zijn wat donoronderdelen vanaf gehaald voor zijn eigen Dodge. Hij is daar al dapper mee aan de slag geweest alsook om de chassisbalken te ontroesten en in de primer te zetten (de laadbak is eraf gehaald). Dan geeft Peter in 2009 aan ons het groene licht om zijn Dodge te komen halen. De planning zou zijn om eind mei 2010 dan eindelijk de Dodge uit Spanje op te halen met een trailer.
Zo gezegd, zo gedaan. We reizen af naar de Costa Brava in mei 2010.
How to wake up a sleeping V8
De Dodge is destijds rijdend de garage ingereden, dus hij moet er ook weer rijdend uit kunnen. Hoe pak je dat aan met een Dodge die 11 jaar heeft stilgestaan? Gewoon starten en lopen, we praten hier wel over een Dodge, hè.
We nemen echter toch maar eerst enkele voorzorgsmaatregelen:
banden oppompen zodat 'ie wat makkelijker rijdt.
accu verwisselen met een volle zodat 'ie kan starten (we nemen een verse accu mee vanuit Nederland)
oude brandstof uit de tank gehaald en 20 liter verse benzine toegevoegd (de tank was verwijderd en moet eerst weer onder de Dodge gehangen worden)
olie en (opschroef)oliefilter vervangen
automatenbakolie en koelvloeistof pijlen voor de zekerheid.
remvloeistof DOT-4 vervangen en de remmen ontlucht.
de cilinders van binnen bespoten met WD-40. Bougies losgehaald en de V8 een paar slagen geven. Ging soepel. Je hoefde alleen maar aan de vin te draaien. V-snaar heeft tractie genoeg om het hele zaakje rond te draaien. Dan de motor met contactsleutel laten ronddraaien (zodat hij wat olie rondpompt), daarna bougies weer teruggeplaatst en bougiekabels weer op de bougies gedrukt, en kijken of 'ie start!!??
Peter kon amper wachten het blok na een eeuwigheid weer tot leven te brengen. Het is altijd een zeer emotioneel moment als de motor, na ontzettend lang stil te hebben gestaan, op het punt staat aangetrapt te worden. De spanning stijgt als er geen reden meer blijkt te zijn het moment surprème verder uit te stellen. Met een bonkend hart schakelt Peter de ontstekingsstroom in en er volgt een vastberaden trap op het gaspedaal. Wat gebeurd er? Wel ronddraaien maar niet starten! Al snel blijkt er een restrictie te zitten in de brandstofleiding. Dit wordt verholpen. Vervolgens wordt er wat benzine gegoten in het benzinefilter en in de carburateur. Dan is het: starten en … LOPEN!!
Alsof er 10 minuten geleden nog mee is gestuurd geeft het blok duidelijk hoorbaar te kennen dat er een hoop paardenkrachten tot leven komen, die ongeduldig op het moment wachten dat ze eindelijk weer eens in volle galop over het asfalt mogen rennen. De diepe bevrediging die Peter op dit moment moet voelen is hem duidelijk aan te zien. Deze dag kan niet meer stuk voor hem! Blauwe wolken worden door de uitlaat naar buiten gegooid terwijl het beest staat warm te draaien.
Twee dagen later als de Dodge de trailer op moet (en de laadbak zit er weer opgeschroefd) geeft het starten weer enige problemen. De Dodge stribbelt wat tegen! De hoge drukslang van de stuurbekrachtiging begeeft het en alle olie spuit eruit. Halverwege het oprijden van de trailer slaat de motor af en is vervolgens niet meer aan de praat te krijgen. Na wat gemanoeuvreer breekt dan ook nog eens de stuuras. Chaos compleet.
Uiteindelijk wordt de onwillige Dodge de trailer opgelierd!
How to wake up a sleeping V8
door: Peter Kroos

Dodge kietelen
Nou hèhè. It has begun!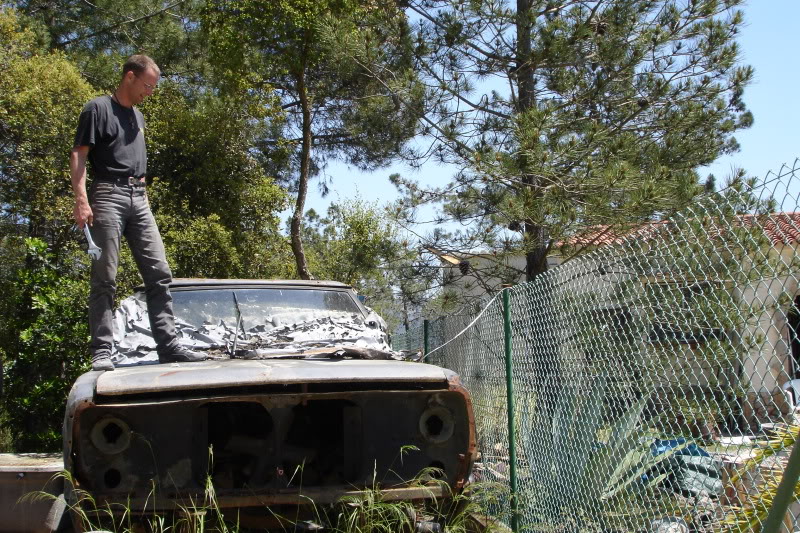 Naked Dodge
Ben ook begonnen met het strippen van die zwarte sloop Dodge. Moet je wel eerst oorlog voeren met het wespenvolk ivm wespennest in motorkapruimte. Kruipolie spuitbus '1001' helpt hier ook bij. Heet vanaf nu dus ook '1002'!

How to wake up a sleeping beauty
Niet zomaar een schop onder z'n hol geven

How to wake up a sleeping beauty
With lots of kruipolie!

Goede werkschoenen met stalen neuzen?
Wel nee, gewoon Spaanse slippers!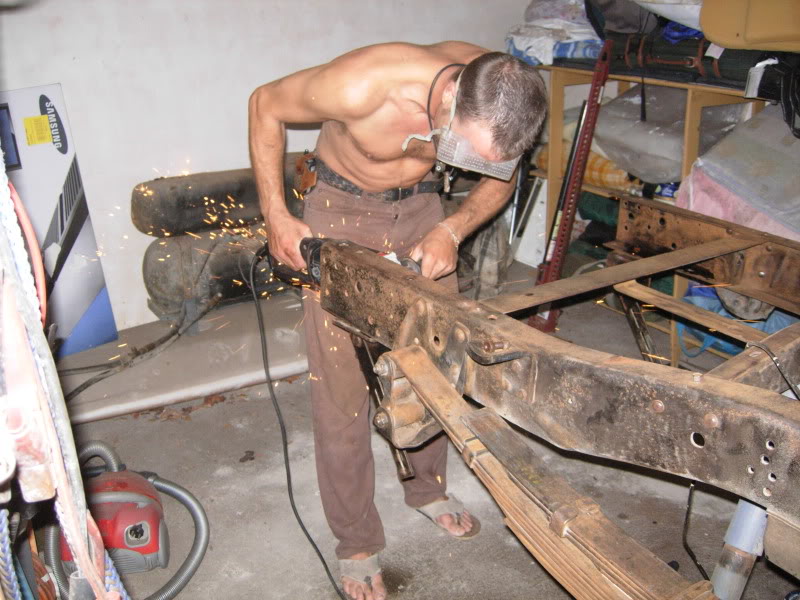 Als er een schroeffie vastzit…
Al het originele spul is makkelijk los te halen. Ik sta er versteld van. Goed spul! Hoogstens een beetje kruipolie erop en dan komt het wel makkelijk los. Dan zit er een accessoire op … deze moet eraf.
1. schroef en bout komt na veel geweld los 2. draait dol 3 breekt af en bij 4 … weet je wat … slijpen die handel! Veel gemakkelijker en sneller.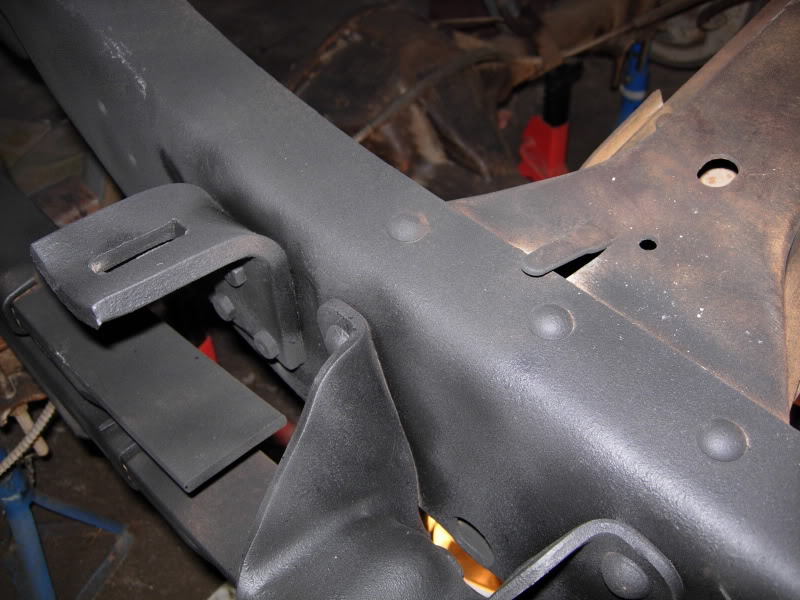 Dit is een stuk beter!
Een beetje verf (ok, tectyl) doet wonderen.
PREVENTIVE MAINTENANCE CHECKS AND SERVICES – Co Oskam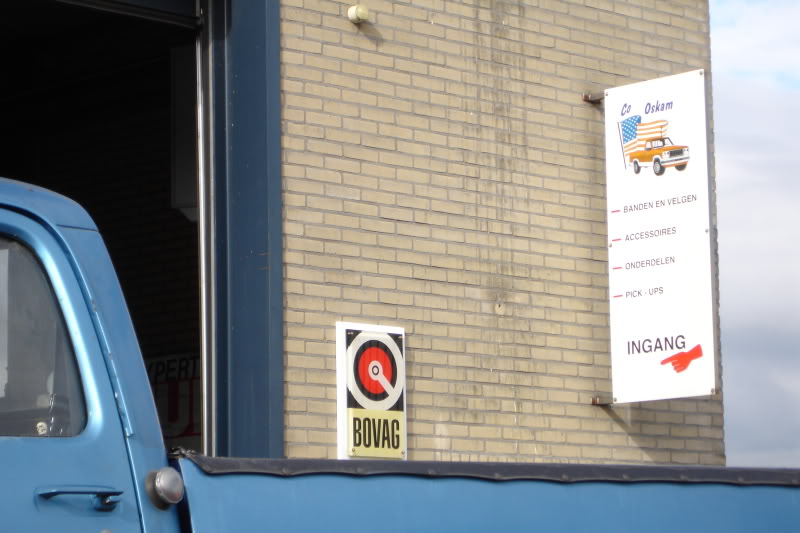 Check and service the truck to be ready for the road before you drive it
We brengen de truck naar Co Oskam, die h'm vervolgens zal nakijken.
Belangrijk is het vervangen/verversen van alle vloeistoffen en filters: motorolie + (opschroef)oliefilter, olie stuurbekrachtiging, koelvloeistof, ruitenwisservloeistof, remvloeistof, tussenbakolie, olie differentiëlen en automatenbakolie (ook converter leegtrekken) + filter.
Belanrijk is vervolgens een APK Keuring!
Belangrijk is ook het vervangen van rubbers indien nodig. Denk aan: radiateurslangen, vacuümslangen (meestal zijn ze nog legergroen), benzine en LPG-slangen/leidingen, V-snaren, remslangen!, ruitenwisserbladen, rubberen stofkapjes wielremcilinders (alleen bij lekkage), banden rondom.
Belangrijk is ook lubrication (onderdelen waar smering noodzakelijk is): voorwiellagers (en speling controleren), kruiskoppelingen (en speling controleren), fusee- en stuurkogels (ook hier speling controleren), smeren bewegende delen carburateur en smeren stangenstelsel van de tussenbak.
En dan nog…
How is my baby?
Het heeft even geduurd – 2 jaar – maar dan kan Peter zijn Dodge ophalen uit Utrecht. Co heeft hem proef gereden, gestuurd, geremd, en ge-APK'ed. Dat is dan ook zo'n beetje alles, maar daar is de prijs dan ook naar.
If your car is in a coma
Here are some suggestions of what you need to do and what you should do.
1. Rebuild carburetor.
2. Change motor oil.
It is very important to not be fooled by the clean looking oil. If the engine has not been started in years, the oil will always look perfectly clean, this is because all the particulate matter has settled out. Before you turn the key for the first time, you must drain the oil and take the oil filter off, then put the drain plug back in and pour a can of Rislone or better yet, Alemite CD-2 oil additive into the oil fill hole. Nothing else, just one can of this powerful detergent additive. Then, still without trying to turn the engine over, rock the car as hard as you can, maybe letting the tires down a bit so they are softer, so you can get the additive to slosh around in the bottom of the oil pan. Do this for a while, then let it sit for a while, then repeat, as many times as you have patience for, then finally drain out the additive, and leave the plug out at least overnight, so as much of the abrasive crud comes out, drip by drip, as will come. (In really old cars, it's recommend dropping the pan and scraping the gunk out by hand, but maybe you are not up for that). Then finally refill with new oil, put a new oil filter on it (prefilling it with oil first, if you can do that, so you have oil pressure as soon as you crank it, rather than waiting for the filter to fill), and crank it very briefly, a few times, a few seconds at a time with maybe a minute between tries, so that you are beginning to have some lubrication on the moving parts before you add the pressure of combustion to the bearings and pistons.
Once you have gone through all this, you can follow your nose as to what to do next, you will not be as much in danger of causing damage by running a dry engine or pumping crud through the oil system.
3. Make sure engine is not frozen (be nice to starter). It would be nice to spray some WD-40 in the spark plug holes.
Just spray some WD-40 in the cylinders and let soak for at least a day, then turn the engine over by hand using a breaker bar and socket on the front of the crankshaft (even met de hand voorzichtig de krukas aan de balancer ronddraaien om te kijken of de motor niet vastzit). You will be doing this to avoid breaking any piston rings that may be tight in the cylinders, so be careful.
It is also a good idea to pull the spark plugs and lubricate the cylinders with a couple of squirts of motor oil down each spark plug hole and then turn the engine over a few turns before you replace the plugs.
4. It would be nice if you could also remove the valve covers and pour some oil directly on the rocker arms and valve springs. Be generous and that oil will also drip down on the lifters and cam.
5. Also check the condition of the inside of the fuel tank before filling it up with fresh gas. Loose rust can really clog things up.
DON'T try to start it on any old gas that may be in the tank. If you are very lucky, the tank is dry in which case you might be OK to add fuel. Most likely you will need to pull the tank, have it cleaned out and coated and you will probably find that the fuel pomp has failed too from the old gas that was trapped there. Blow out the fuel line too. If you don't pull the carburetor, watch carefully when you do try to start it that you don't have fuel spilling out because the floats have stuck. Engine fires are not fun.
As to getting gas to the carburetor, just to see if that's your only problem, you can safely dribble a few ounces of fuel into the bowl vents that come out the top of the carburetor, this will fill the float bowls and allow the engine to run even if the fuel pump/lines/filter/tank system is not working. Replace the air cleaner after you put the gas in the carburetor, to prevent a flashback of fire in case an intake valve is stuck open. If it does start for a second and then dies, you can add more gas to the carburetor by trickling it down the center screw under the wingnut on the air cleaner, without removing the air cleaner.
If you do experience a flashback through the carburetor, keep cranking to suck the flames back into the engine. It won't hurt the engine, but flames will sure mess up your hood (and your eyebrows!).
6. If you don't get a spark, and this car has points and condenser ignition system, very likely the points will have a film of oxide on them from sitting, the film can be removed with a point file, but it probably makes sense to just replace the points and condenser, they're cheap and easy. If it has the electronic distributor (69 or 70 was the changeover year), you don't have to worry about the points, of course.
7. The transmission will probably be 2 to 3 quarts low from leakage while sitting so add Dexron fluid before you drive it. Check it while the engine idles and the gear selector is in neutral…(NOT PARK).
8. DON'T trust the brakes even if they seem to work by just adding fluid. Regular brake fluid absorbs moisture from the air and you probably have rust formations inside of you brake cylinders. Take them apart and inspect/repair before you drive it very much.
9. Then change the motor oil again after about 500 miles.
The above suggestions come from numerous experiences in reviving old MoPars after varying lengths of storage time.